Book Your Dubai Marina Dhow Cruise | Update
Contents
In the City of Gold, a particular district stands apart from the rest -- the Dubai Marina. A man-made canal city, this district lies in the heart of Dubai and is dotted with towering skyscrapers with awe-inspiring architecture, and long stretches of beautiful beaches, including the culturally-significant The Walk at JBR (Jumeirah Beach Residence). If you're looking for a unique way to explore this stretch, go for a dhow cruise at Dubai Marina.
Why Go For a Dhow Cruise at Dubai Marina?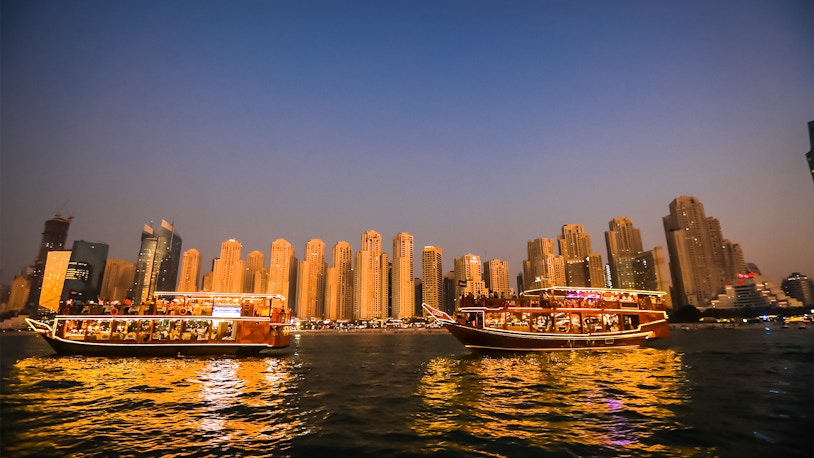 At Dubai Marina, guests have a unique opportunity of exploring the best that Dubai has to offer.
Not only is it home to the Burj Khalifa and the Dubai Mall -- the world's tallest building and largest mall -- but also boasts architectural wonders like the Yacht Club and several luxury hotels and commercial spaces.
Surrounding this is the magnificent Persian Gulf! When on a Dubai Marina cruise, you can observe this impressive sight from a unique vantage point. Hop onto a dhow, ferry or yacht and voyage along the canal.
Book Your Dubai Marina Dhow Cruise
What to Expect on a Marina Cruise in Dubai?
A Dubai Marina dhow cruise is a complete, fun-filled package. Not only do you get a remarkable view, but the experience is further enhanced with a delicious meal and some live entertainment.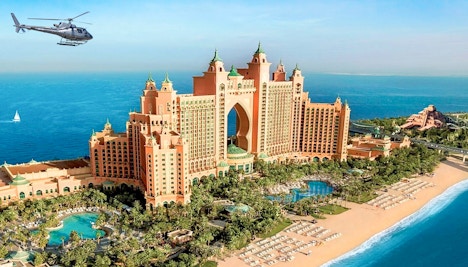 Sightseeing
Get an up-close view of internationally-famous landmarks like the Atlantis Hotel, the Palm Islands, Burj Al Arab and the Dubai Marina Yacht Club. While on your Dubai Marina cruise, you can observe the finer details of the inspired architecture of these landmarks. This view is perfectly complemented by the gentle waters of the Gulf. Guests can choose to opt for either a day-time or evening cruise.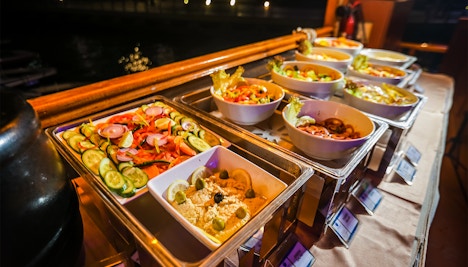 Dinner
Looking for a dinner with a view? Simply go for a dhow cruise at the Dubai Marina! If you book a Dubai Marina cruise dinner, prepare for a lavish buffet complete with delectable continental dishes. Depending on your package, you'll also be treated to some refreshing welcome drinks, soft drinks and Arabian dates. Not all cruises include dinner; you would have to book specifically book a dinner cruise at the Marina.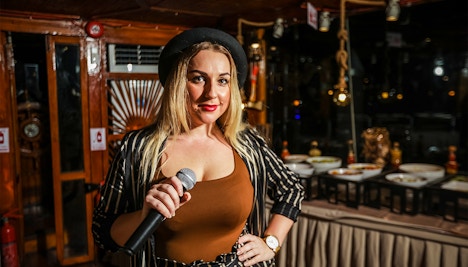 Entertainment
To round off your wholesome evening, your dinner cruise will also include some live entertainment that is inspired by the region's culture and tradition. You'll be treated to some live music native to the Arab world, along with a traditional Tanoura dance, which is a classic folk form of dance originating in Egypt/Turkey. Your evening might also include a fun puppet show!
Plan Your Experience
Timings
Location
Guidelines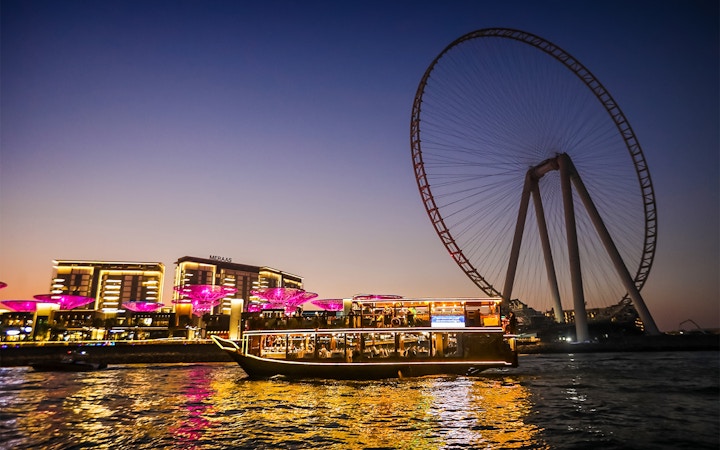 What are timings for Dubai Marina dhow cruises?
Evening cruises are scheduled between 09:00 PM to 11:00 PM; day-time cruises start from 10:00 AM till sunset.
When are Dubai Marina cruises available?
Dubai Marina cruises are available every day of the week. You can also choose between taking a day-time or night cruise.
How long is a Dubai Marina cruise?
It depends on the cruise you book. If you're booking a Dubai Marina cruise dinner, then you can expect to spend about 2-2.5 hours. If you're going for a regular sightseeing cruise, then your trip would last for about an hour.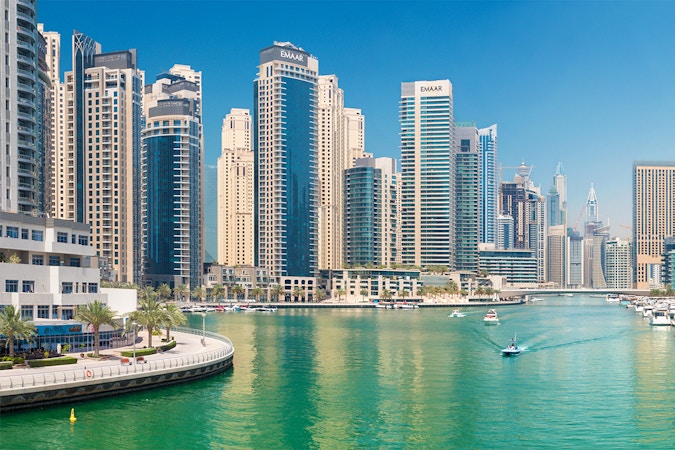 What is the departure point for Dubai Marina cruises?
Most cruises depart from the Dubai Marina Promenade, however, the location can change depending on the one you book. The final details will be confirmed on your reserved ticket.
Where is Dubai Marina Promenade located?
How do I get to the Dubai Marina Promenade?
The best way to get to the Dubai Marina Promenade is by taking the metro and getting off at the JLT metro station. From there, the pier is at a 10-minute walking distance.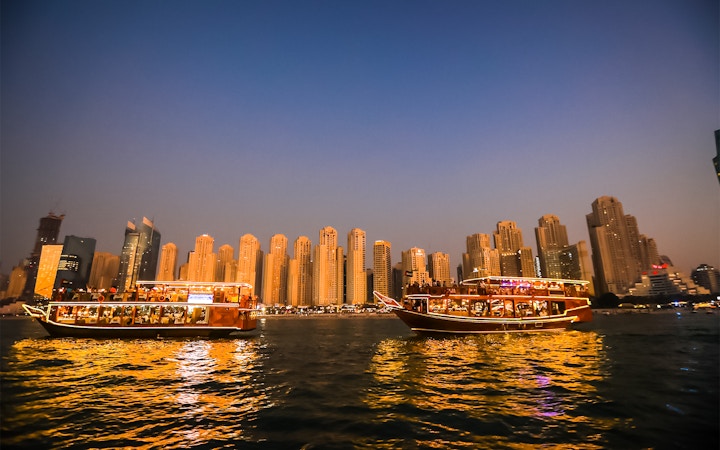 What should I wear on a Dubai Marina dhow cruise?
Guests can wear modest, casual clothing while on a cruise. Pants, shorts, t-shirts, flat shoes or sandals are your best bet. For dinner cruises, smart casuals are the best option.
Are hotel transfers available with Dubai Marina cruises?
Not all cruise bookings include hotel transfers, please check for ones that specifically do, before you book. Hotel transfers are only available from hotels in Dubai and not apartments.
What rules should I follow on a cruise?
Guests are requested to avoid overlooking from the deck, ensure that they maintain social distancing with others and maintain decorum during their experiences.