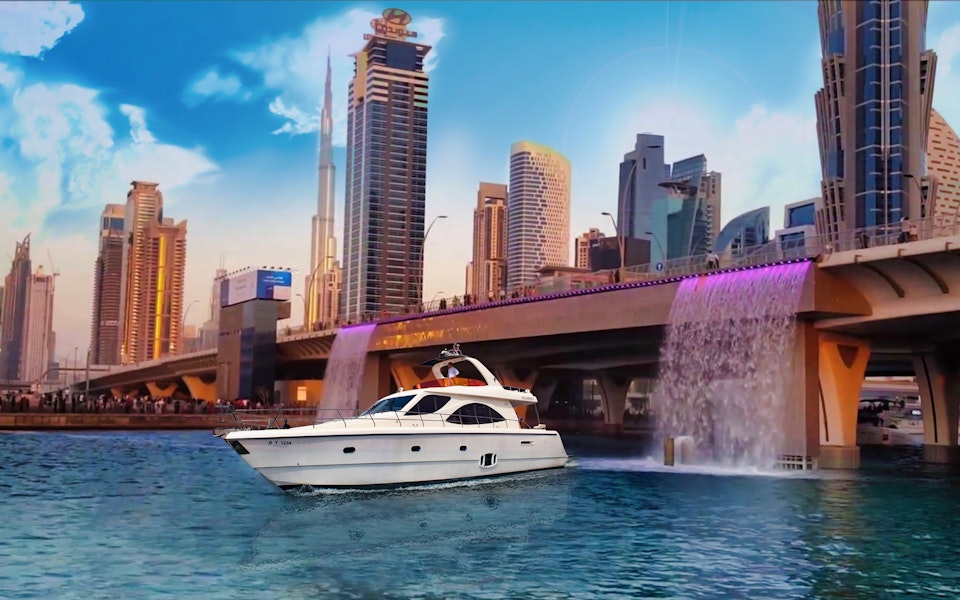 Book Your Dubai Canal Cruises | 2020 Update
The Dubai Water Canal is a spectacular man-made canal that connects some of the busiest parts of the city: the Dubai Creek to Business Bay, eventually winding into the Gulf. Covering a stretch of about 3 km, the Canal is an infrastructural marvel that adds to Dubai's glittering landscape. If you're looking for a cool way to explore the area, an interesting way to do so would by opting for a Canal cruise in Dubai.
Why Go for a Canal Cruise in Dubai?
While on a Canal cruise in Dubai, guests can witness attractions across the 3-km stretch; it is dotted with high-rise buildings in areas like Sheikh Zayed Road and Jumeirah, restaurants, retail stores, a marina and a boardwalk.
But perhaps the highlight of a cruise would be the magnificent mechanical waterfall that is in constant flow; its technology is such that it uses high-end sensors to to detect a boat and automatically switches off till it passes. 
Apart from soaking in the beautiful view, guests can choose to tour the Canal on either a yacht or on an abra. Depending on your ticket, you will get to enjoy a delicious meal and avail the various entertainment options on deck.   
Book Your Dubai Canal Cruise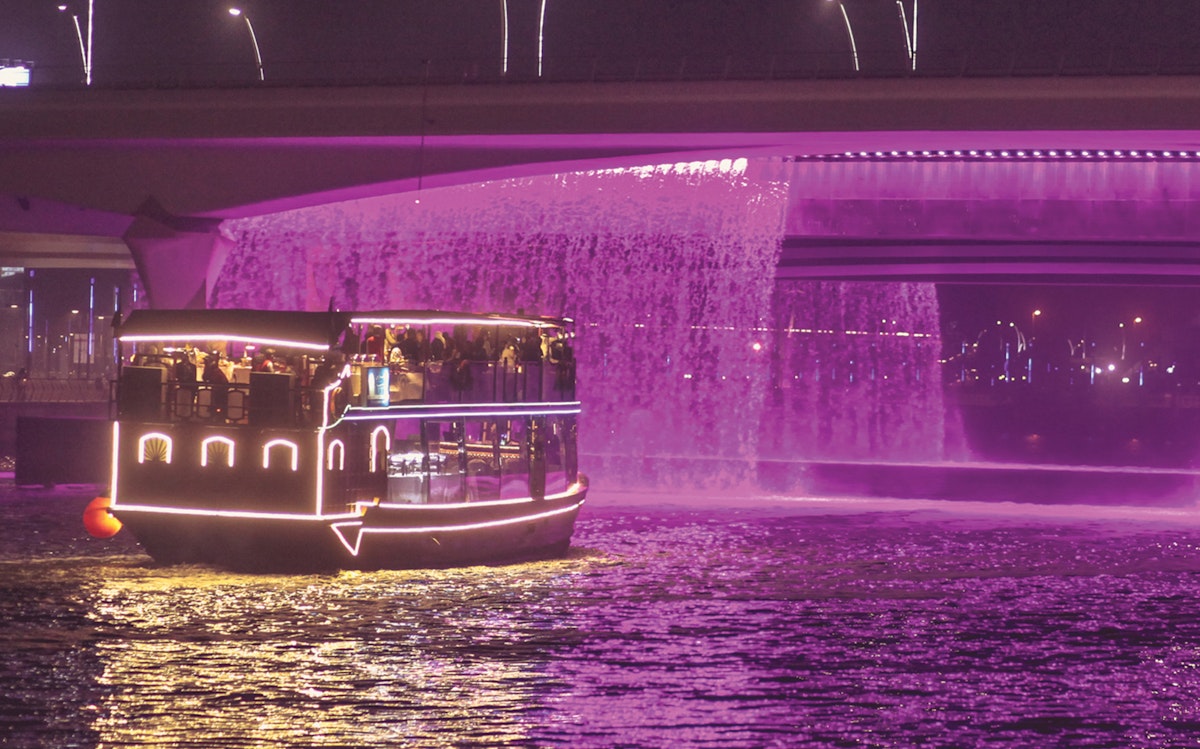 Dubai Water Canal Cruise with Dinner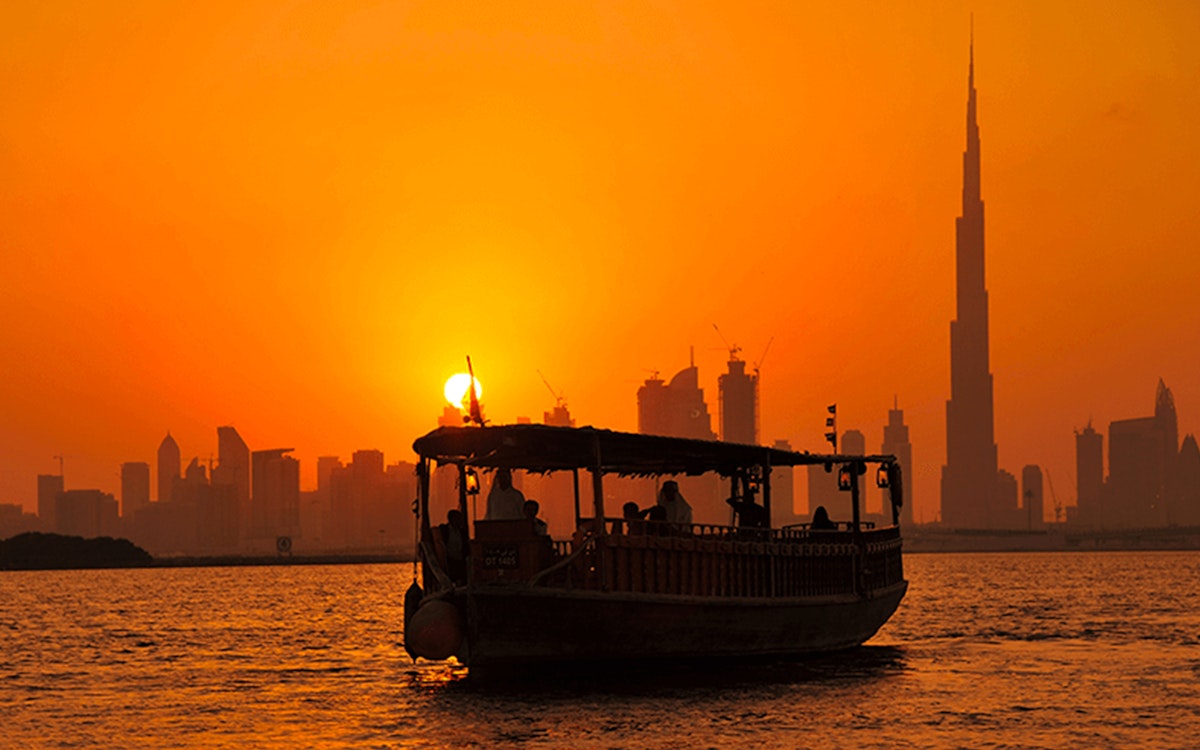 Abra Ride in the Dubai Water Canal
What to Expect on a Canal Cruise in Dubai?
You're in for a treat on a Canal cruise in Dubai. Prepare to be mesmerized by beautifully-designed buildings, gentle waters, a lovely dinner meal and a variety of entertainment options. Please note that these may vary depending on the time of day and type of cruise you opt for.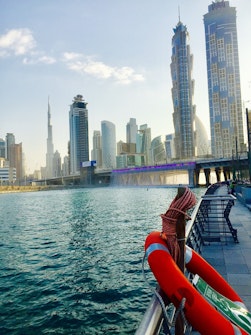 Sightseeing
A cruise on the canal is a feast for your eyes. Keep your eyes peeled for landmarks like the Business Bay Bridge, Burj Khalifa, Westin Hotel, Festival City and more. These views are perfectly complemented by pleasant winds, the gentle waters and the bright neon lights of the waterfall! A cruise is the best way to get an up-close look at the landscape of the heart of Dubai.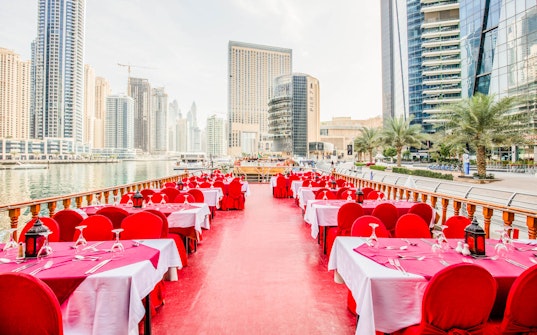 Dinner
Adding to your memorable sightseeing cruise experience is the opportunity to dine in utmost luxury. Guests will be welcomed onboard with welcome refreshments and then treated to a 3-course meal with delicious dishes from around the world, including both vegetarian and non-vegetarian options. Unlimited mineral water and soft drinks are also available on deck for guests.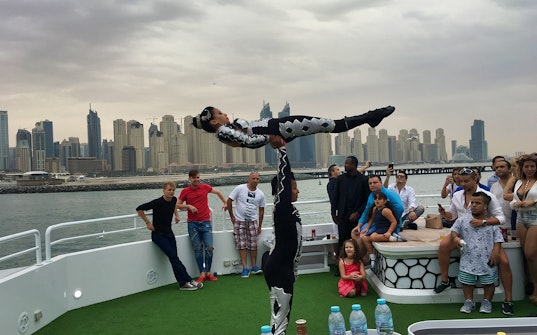 Entertainment
The cherry on top of a Canal cruise in Dubai is the variety of entertainment options onboard. Not only are multiple entertainment decks present on these luxury yachts where guests can participate in games and activities, but live entertainment in the form of Tanoura dances, puppet shows and music are also available on deck. An added bonus is that a swimming pool is available on deck! 
Plan Your Experience
Timings
Location
Guidelines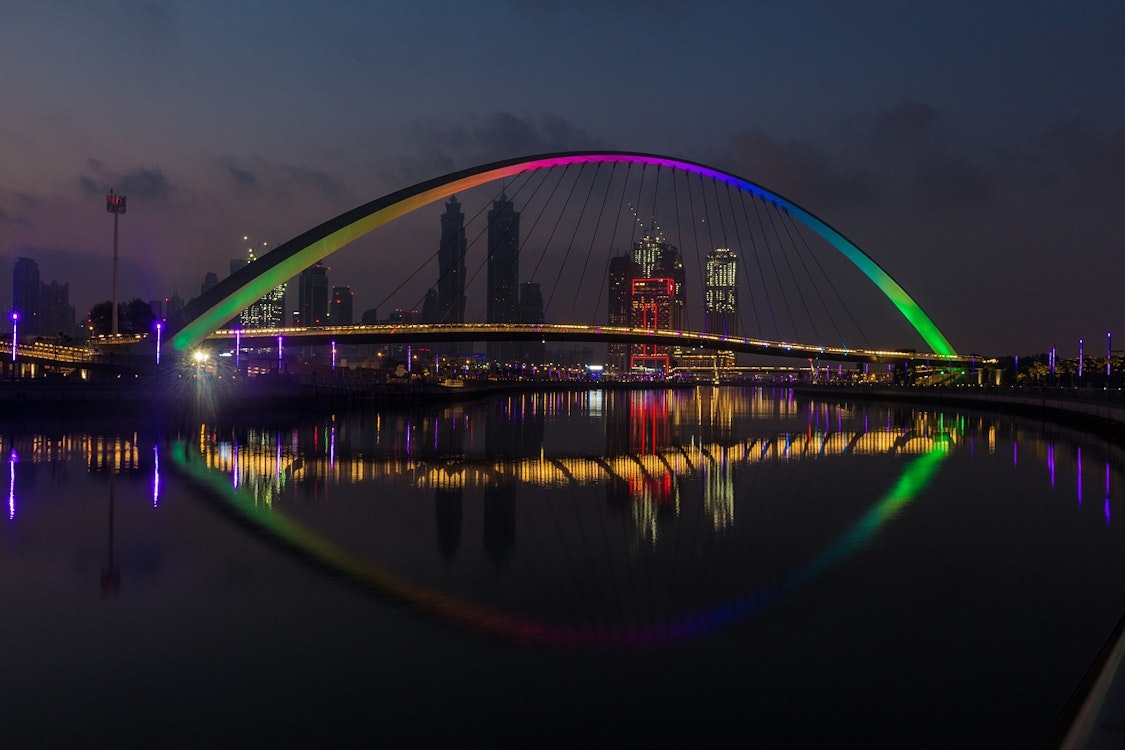 What are timings for Canal cruises in Dubai?
Timings differ based on the time of day you plan to go for the cruise. Evening cruises are generally between from 08:00/08:30 PM - 10:00/10:30 PM;; day-time cruises commence from 10:00 AM in regular intervals until sunset.
When are Dubai Canal cruises available?
Dubai Canal cruises are available every day of the week. You can also choose between taking a day-time or night cruise.
How long is a Canal cruise in Dubai?
It depends on the cruise you book. If you're booking a dinner cruise, then you can expect to spend upwards of 2-2.5 hours. If you're going for a regular sightseeing cruise, then your trip would last for about an hour.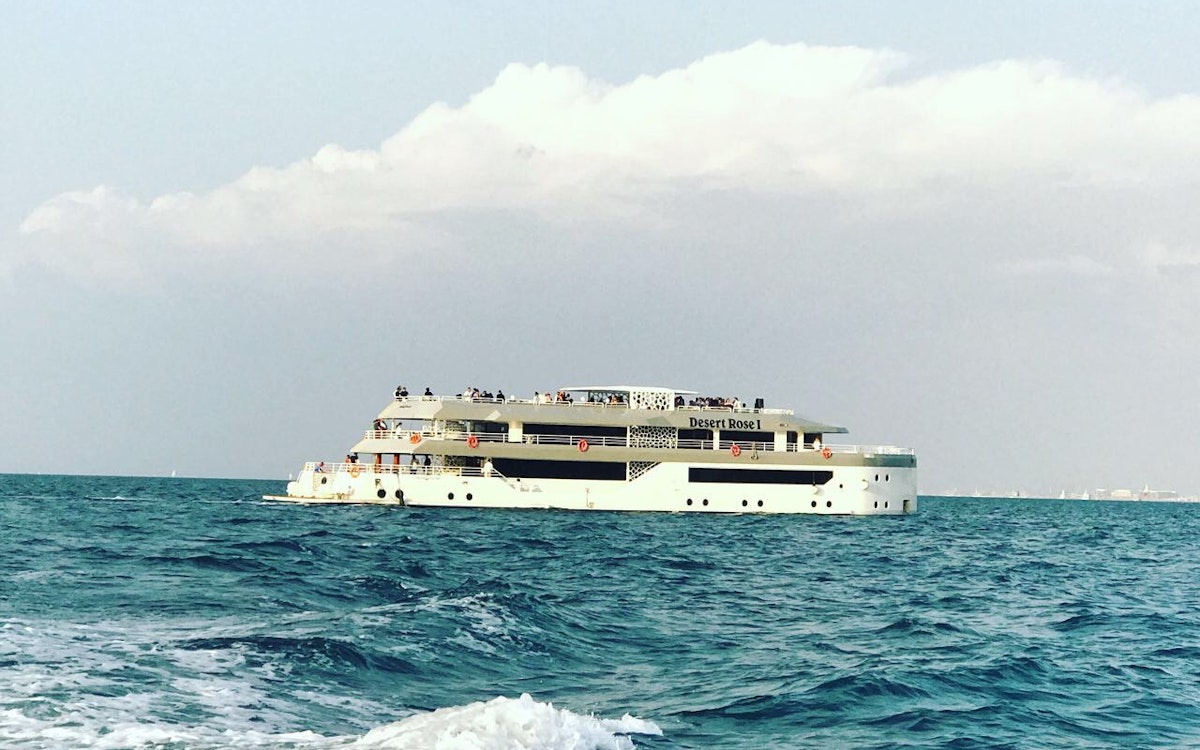 What is the departure point for Canal cruises in Dubai?
The Water Canal has several points to board a cruise, the location for which depends on the ticket you book. Your final confirmed ticket will include all relevant information related to the cruise departure point.
Where is the Dubai Water Canal located?
Since the Canal covers a stretch of 3 km, there are several locations to visit it. If you're looking for the Boardwalk, it is located at 260 Sheikh Zayed Rd - Business Bay - Dubai - United Arab Emirates. 
Google Map Directions.
How do I get to the Dubai Water Canal Boardwalk?
You can either drive down, take the bus or the metro to the Dubai Water Canal Boardwalk. If you're planning to take the metro, you can alight at the Business Bay stop and walk to your destination from there.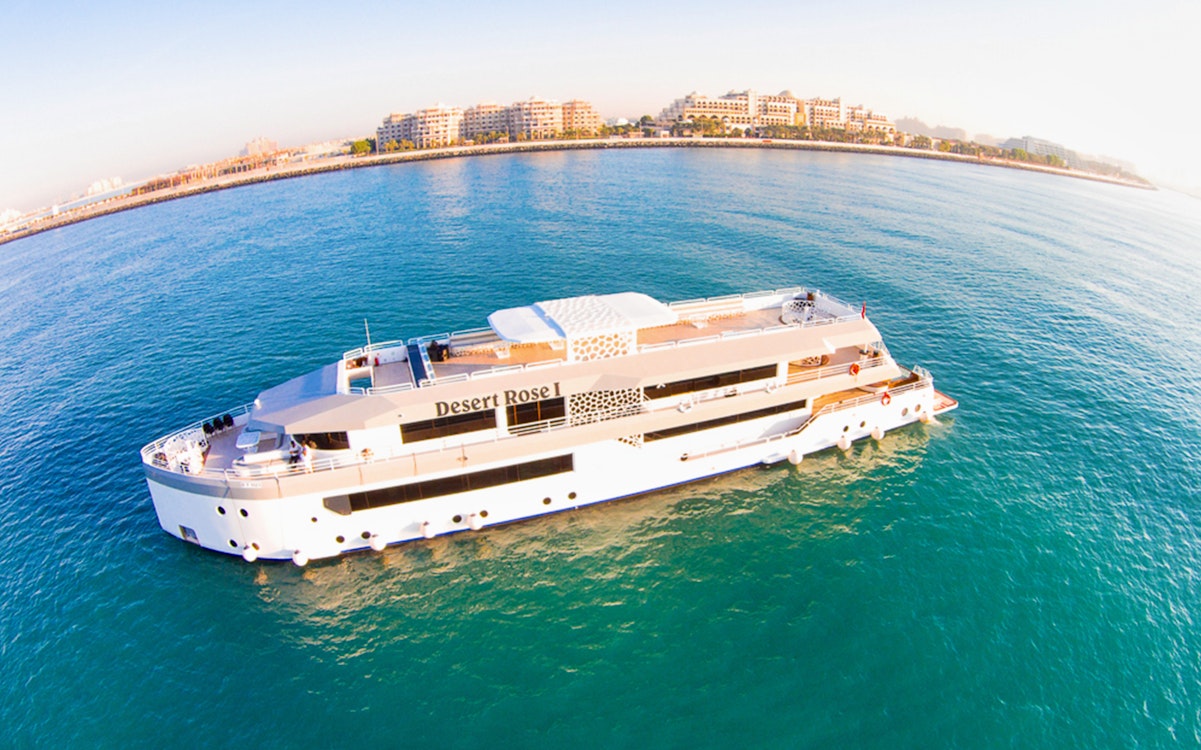 What should I wear on a Dubai Canal cruise?
Guests can wear modest, casual clothing while on a cruise. Pants, shorts, t-shirts, flat shoes or sandals are your best bet. For dinner cruises, smart casuals are the best option.
Are hotel transfers available with Canal cruises in Dubai?
Not all cruise bookings include hotel transfers, please check for ones that specifically do, before you book. Hotel transfers are only available from hotels in Dubai and not apartments.
What rules should I follow on a cruise?
Guests are requested to avoid overlooking from the deck, ensure that they maintain social distancing with others and maintain decorum during their experiences.