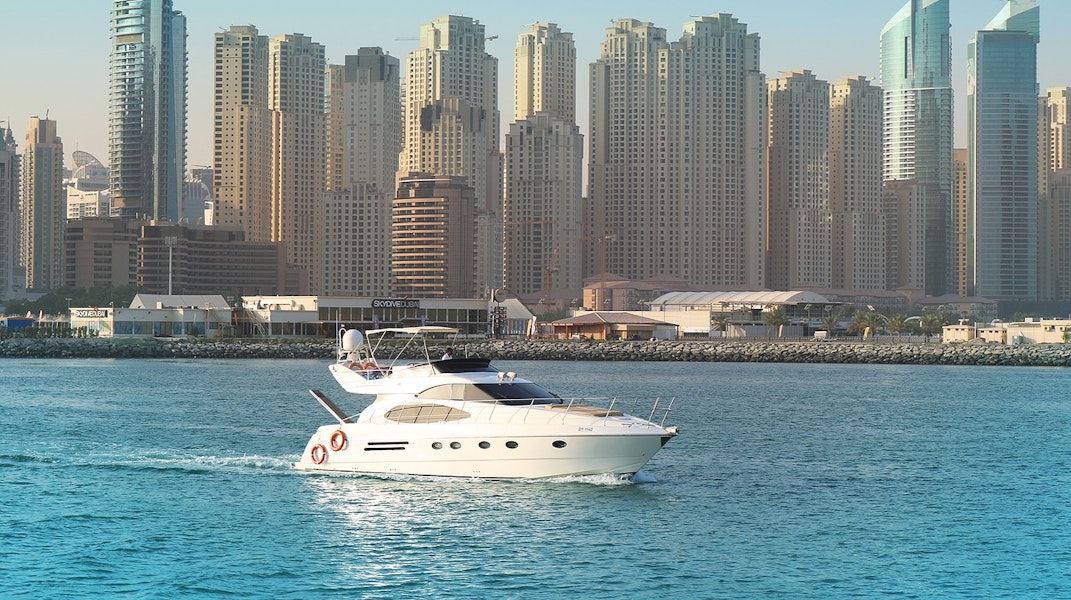 Book Your Dubai Yacht Tours | 2020 Update
The city of Dubai redefines grandeur and splendor at every turn. Whether it's the high-rise buildings, magnificent man-made water canals, haute couture fashion labels, thrilling theme parks and so much more. If these highlights aren't enough and you're looking for a unique way to pamper yourself, why not indulge in a yacht tour in Dubai? 
Why Go For a Dubai Yacht Tour?
If there is one way to describe what's in store for you on a yacht tour in Dubai, it's this: the view is phenomenal. 
Prepare to be mesmerized by the scenic landscape ahead; towering, architecturally-significant skyscrapers like the Burj Khalifa, pods of greenery around with cafes and restaurant dotting the landscape, all surrounded by a spectacular blue ocean.   
To enhance your experience, the yachts are steeped in comfort; you'll find lush interiors and seating across multiple decks, along with a wonderful dinner and several entertainment options for family and friends.  
Book Your Dubai Yacht Tours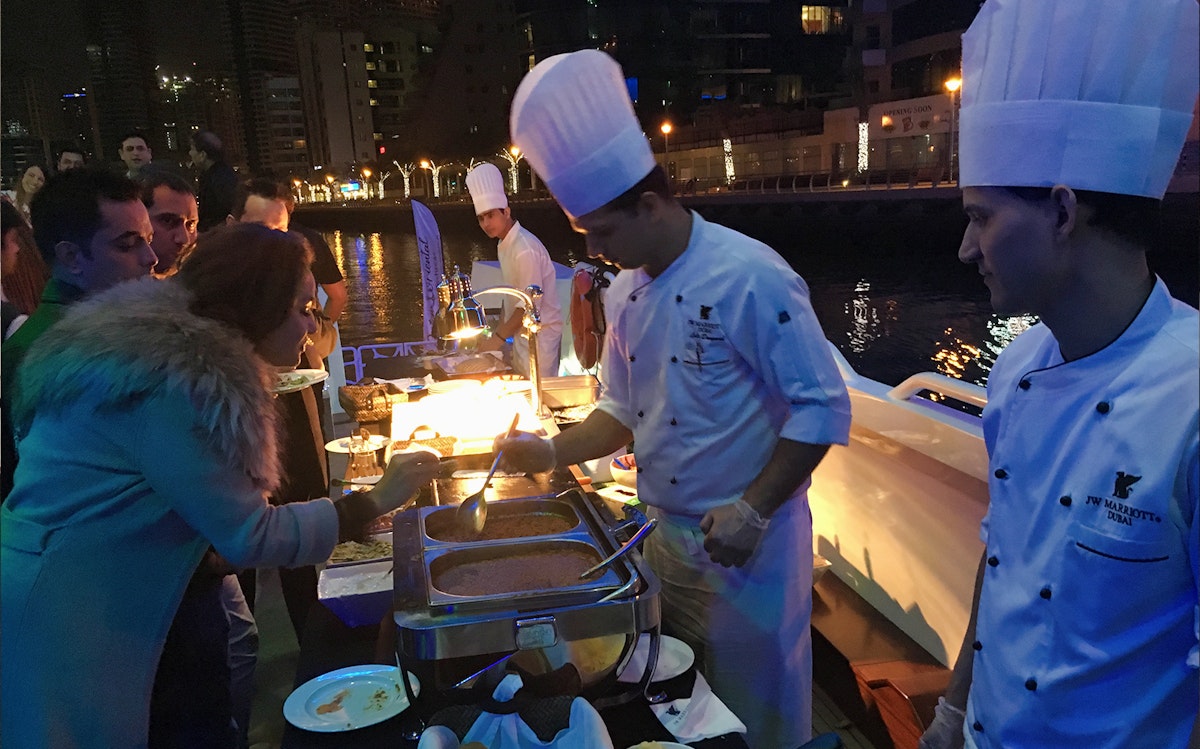 What to Expect on a Yacht Tour in Dubai?
Here's everything you need to know about what to expect on a yacht tour in Dubai, including locations, what to see and what else is in store.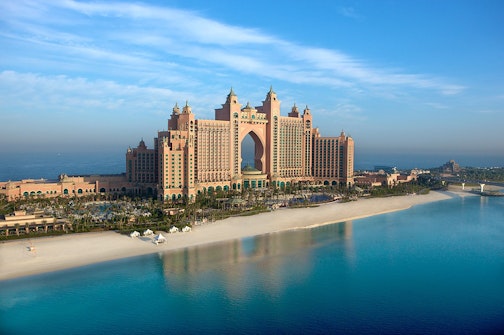 Sightseeing
While on a sightseeing cruise, feast your eyes on Dubai's beautiful landscape. Covering a span of several kilometers, you can get an up-close view of landmarks like Business Bay, the Burj Khalifa, Palm Islands, Burj Al Arab, Atlantis Hotel and more. The long duration of the tour allows you to observe these attractions at length.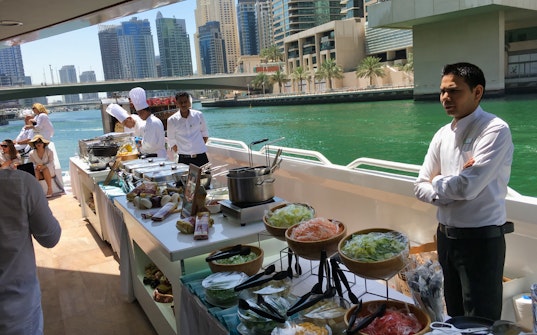 Dinner
Your yacht tour is incomplete without a feast to indulge in. Guests are welcomed on an evening cruise with refreshments and then treated to a 3- or 5-course meal with popular dishes from around the globe, including both vegetarian and non-vegetarian options. For those on a day-time yacht tour, they can choose from a selection of desserts and refreshments.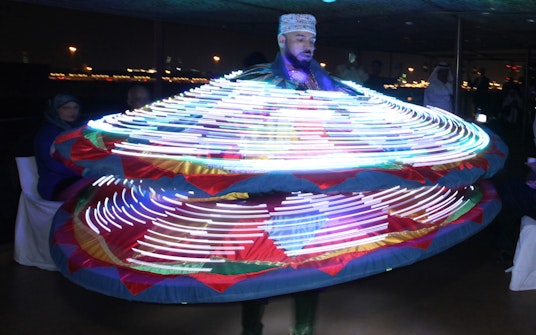 Entertainment
No cruise is complete without some memorable events to keep family and friends entertained. Your evening of leisure includes live music by talented musicians, a puppet show or traditional tanoura dance performance. Moreover, the yachts are equipped with swimming pools on deck for guests' use, along with other games and activities on deck.
Plan Your Experience
Timings
Location
Guidelines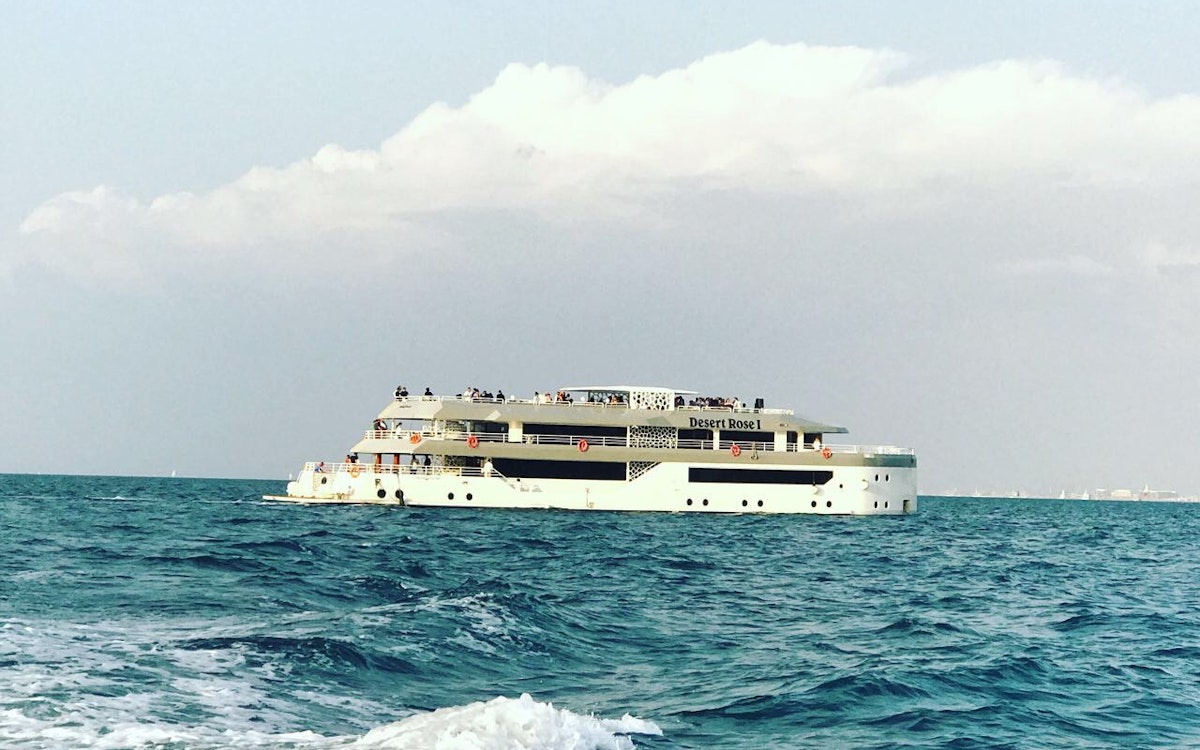 What are timings for Dubai yacht tours?
Evening cruises are scheduled from 08:30 PM onwards, while day-time cruises commence from 11:00 AM at regular intervals.
When are Dubai yacht tours available?
Dubai yacht tours are available every day of the week. You can also choose between taking a day-time or night cruise.
How long is a Dubai yacht tour?
It depends on the cruise you book. The tours vary between 2 to 4 hours, depending on the inclusions of your package.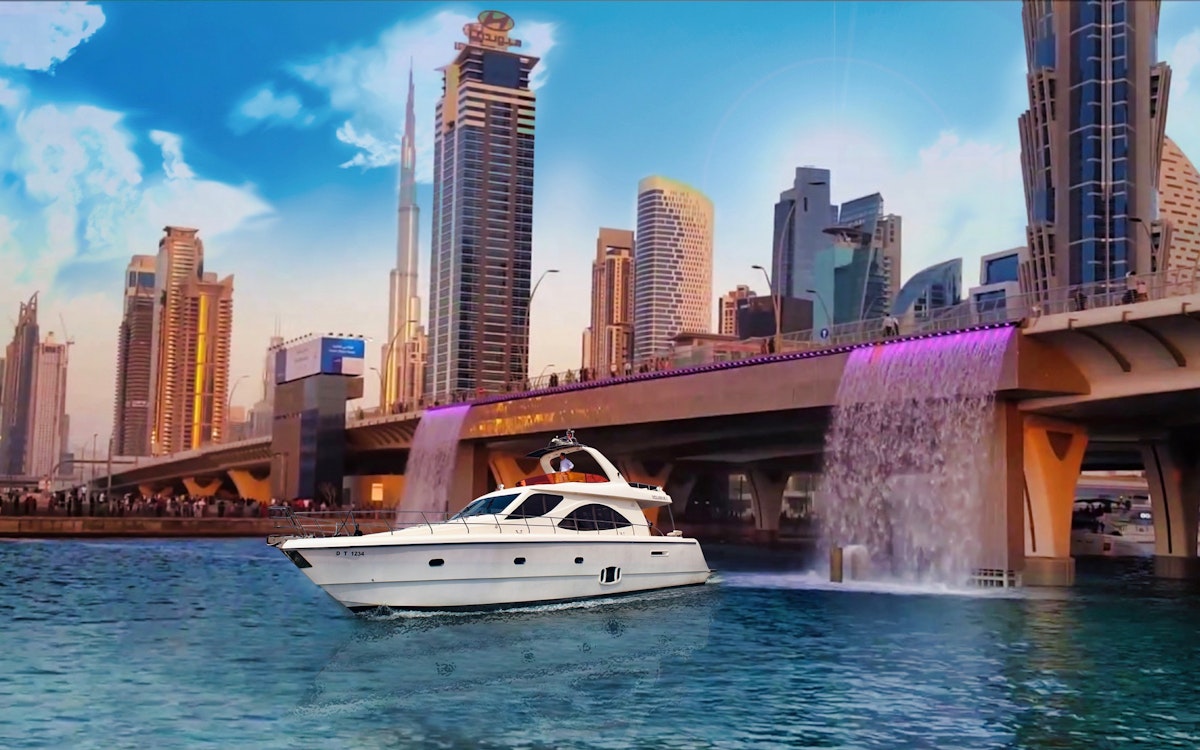 What is the departure point for Dubai yacht tours?
The departure point varies from tour to tour. However, most depart from Xclusive Yachts at Business Bay or Dubai Marina.
Where is Xclusive Yachts Business Bay located?
How do I get to the departure point at Business Bay?
The best way to get to your departure point is by driving down or taking the metro. You'll receive the fixed location in your confirmed ticket.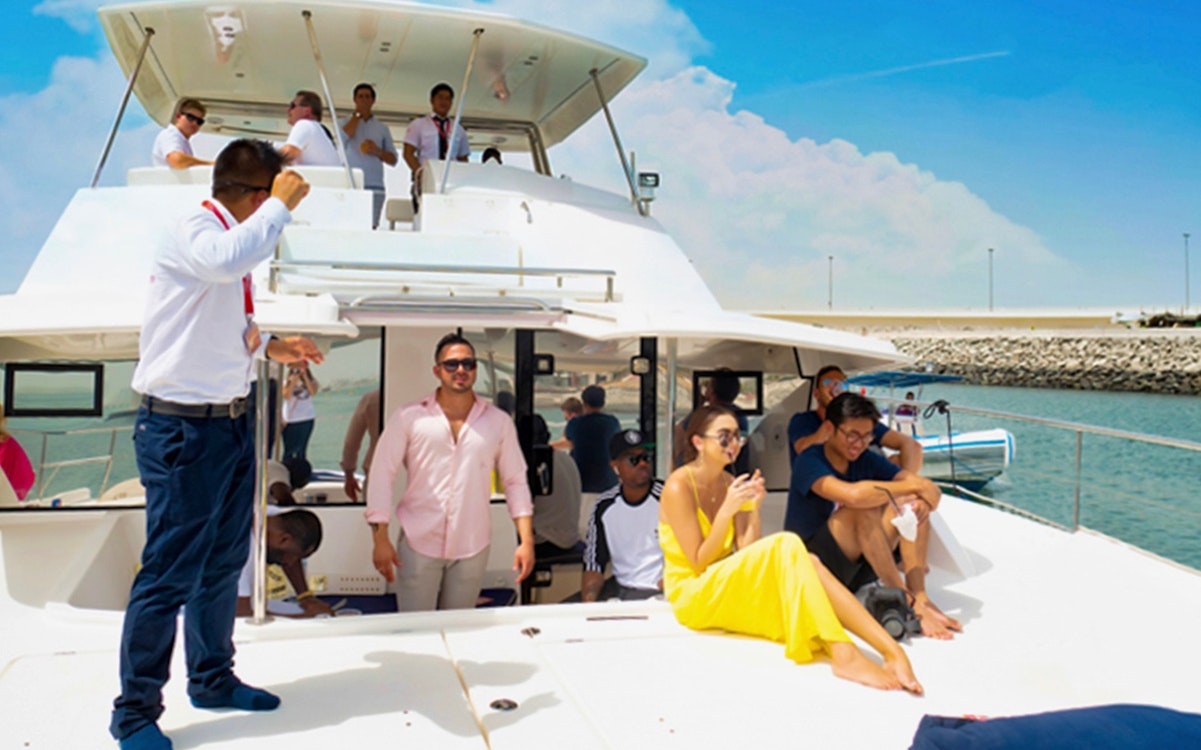 What should I wear on a Dubai yacht tour?
Guests can wear modest, casual clothing while on a cruise. Pants, shorts, t-shirts, flat shoes or sandals are your best bet. For dinner cruises, smart casuals are the best option.
Are hotel transfers available with Dubai yacht tours?
Not all cruise bookings include hotel transfers, please check for ones that specifically do, before you book. Hotel transfers are only available from hotels in Dubai and not apartments.
What rules should I follow on a cruise?
Guests are requested to avoid overlooking from the deck, ensure that they maintain social distancing with others and maintain decorum during their experiences.